Learn to Save Time, Money And
Feel Proud of Your Cakes

With Unlimited Online Cake Decorating Classes to Make Your Piping and Fondant Stand Out From The Crowd
Get 30 days of unlimited access for just $1. Then renews at just $7.95/month. Cancel anytime.
CreativiU Elite Is The Fast, Fun, & Convenient Way To Learn How To Create Impressive Cake Decorations… You'll Learn:
Smooth Buttercream And Piping Skills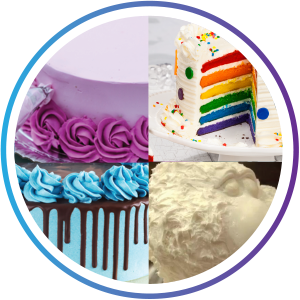 Get sharp edges always
Clean & neat piping
Perfectly leveled cakes
Make flawless roses
Sculpted buttercream
For all skill levels
Birthdays & Weddings
Themed toppers
Creative styles
Cake Sculpting And Airbrushing
Master cake sculpting
Museum-worthy cakes
Realistic or whimsical
Artistic airbrushing
Smooth Buttercream And Piping Skills
Learn to make perfect buttercream cakes and improve your piping skills even if you have the worst shaky hands. You'll get perfect sharp edges, and piping skills so good you'll be able to write poems on your cakes or make flawless roses and understand how to use all piping tips.
Flawless Fondant Cakes
Learn to make errorless fondant cakes consistently; How to cover round and square cakes, how to knit fondant to perfection and get the right thickness, how to fight humidity and avoid air bubbles, pleats, cracks and bumps. Save time and materials when making impressive and elegant fondant textures.
Eye Popping Cake Toppers
Whether you're a beginner, intermediate or advanced decorator, you'll learn how to create the perfect, attention-grabbing cake topper. You will be able to create unique figures, ideal for any occasion; kid's parties, baby showers, weddings, bachelorette parties and more!
Cake Sculpting And Airbrushing
After a few hours of learning you'll be creating museum-worthy cakes that will make you feel proud of your creations. You will get essential skills for creating realistic looking and whimsical cakes like ganaching, carving, modeling fondant, painting, mixing color, applying shadows and so much more!
"It's Like NETFLIX For Cake Decorators"
As a CreativiU Elite member, you'll get instant ON-DEMAND access to our entire library of cake decorating AND other crafts scientifically-created learning procedures (a.k.a. super courses). These step-by-step instructions will help you turn on your creativity like a switch, so you can create unique projects you feel proud of consistently. Here are a few samples:
Private Mastermind Groups For Q&As
As an Elite member, you get access to our private mastermind groups where you get to brainstorm ideas, ask questions and interact with instructors, fellow members and other industry leaders. We basically put together the brightest minds in cake decorating in one private group to help members achieve their true potential receiving personalized support from the best of the best! Some students have even said that this feature alone is worth the whole membership.
CLASS MATERIALS AND TEMPLATES
FREQUENTLY ASKED QUESITONS
Q.

When does the class start?

A.Whenever you want! The courses are available inside your account and it never expires as long as you are a member. You can watch and ask questions from wherever you want.

Q.

How long will I have access for?

A.You will have full access for as long as you are an active member. Your membership stays active when your billing is up to date.

Q.

Will I be able to ask questions?

A.Yes! you will be able to interact with instructors and get personalized answers to your questions inside our virtual "class room"
Q.

How do I access the courses?

A.After you complete the registration process, you will be directed to your account immediately. After that, any time you want to get back into your account you just need to login at creativiu.com with the login details you select in your registration process.

Q.

How much is it?

A.After your free trial ends, you will be billed automatically monthly or yearly (depending on which option you select above) the amounts corresponding to each alternative, currently; $7.95 monthly or $85.86 yearly with the 10% off option presented on this special offer.

Q.

How often do you release new courses?

A.Every month! You will be able to access new classes published on a monthly basis covering a wide variety of topics to help you improve critical aspects of cake decorating.