Want to test and keep FREE a tool that will give you perfectly even cake layers? Click here to learn more now
Enter the creative world of… simple and beautiful cake decorating ideas.
If you are looking to create stunning designs simply and effectively this is for you…
In this post we will look at ten delicious ideas and how you can recreate (and adapt) them.
1. The Pinwheel Cake
When I was little, I loved pinwheels, and now they always remind me of long, carefree summer days.
So here's a pretty cake decorating design all about pinwheels.
Simply cover your tiered cake with colored fondant.
Create the pinwheels and add them to the sides. You can also make them using gum paste, or even paper. And if you want to use a single tier cake you can put the pinwheels on the top.
Colorful, gorgeous and fun!
2. Cereal Decorated Cake
Another effective way to colorfully decorate a cake is with cereal.
The cake in the picture is decorated using Trix which produces a confetti-like effect. But feel free to experiment. Many other cereals will create unique, tasty results.
Use whichever frosting suits the occasion. chocolate frosting, swiss meringue buttercream…  And play around with different colors and flavors. Create patterns with the cereal or just cover the cake randomly.
It can look amazing, and will taste yummy!
3. The Melted Rainbow Cake
I love this cake. decorating ideas with lots of color always get my attention, and children adore them. This one was designed by Beth Jackson Klosterboer.
The dripped melting effect is made using white chocolate ganache colored with a variety of different food colorings.
First, ice the cake and let it rest for a few minutes before dripping the ganache.
Then using a spoon, start dripping it down the sides from the middle of the cake. You will need to drip down one side and then repeat on the other. The top of the cake will be thoroughly colored!
For a rainbow effect use the following color order: purple, blue, green, yellow, orange, red, pink, and repeat until you cover the cake.
For more ideas have a look here.
4. Sugar Pearl Cake Idea
This exquisite effect is created using sugar pearls. All you need is the patience to create a beautiful pattern all over the cake!
It works best using a frosting or buttercream covering because these act as a 'glue' holding the sugar pearls in place.
Super cute!
5. Chocolate Toppers
This idea for cake decoration can be wonderfully adapted to your own design: using melted chocolate, create any shape you want.
Melt the chocolate using the double boiling technique
Place a layer of foil onto a flat surface and 'draw' your desired shapes using the melted chocolate
When the chocolate shapes are dry, carefully remove them from the foil
Add a little melted chocolate to the back of each shape and place it on the cake. The melted chocolate acts as the 'glue' sticking your shapes to the cake.
So easy, and yet incredibly effective.
6. Cookie Cutter Shapes
Here's a fantastic idea if you don't have stencils in your kitchen:
Use any cookie cutter you want, together with endless creative possibilities, which include edible luster powder, colored sugar, sprinkles, chocolate raindrops…
Use a combination of cutters to create as elaborate a cake decoration design as you like!
7. Pink Heart Mouse
This is an adorable idea for cake decorating. I love it!
You can find the easy steps to create this beautiful design by 'Handmade Charlotte' here.
It is so super cute it may actually be tricky to convince anyone to cut into it!
8. Lamb Cake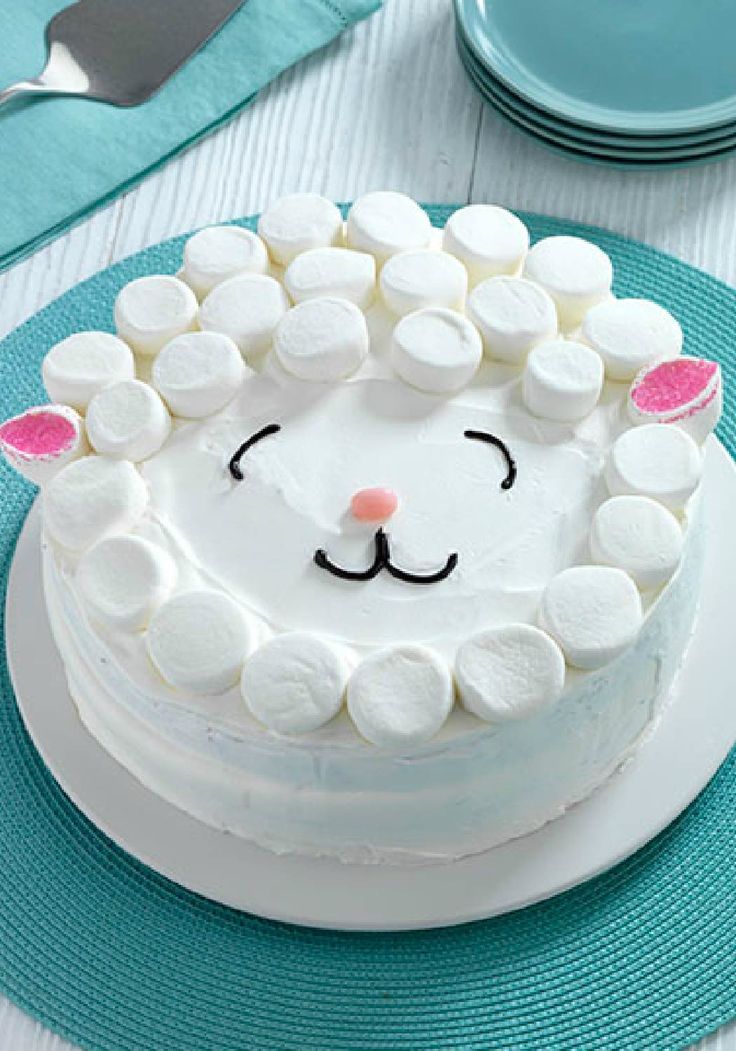 There's a lot of cake decorating ideas around the animal theme.
Here's an adorable lamb cake.
Again nice and easy to create, and it will delight the kids (big and small!) because it's covered with marshmallows. Delicious!
9. Colorful Lollipop
Who doesn't like lollipops?
So here's another idea for your cake decoration that will delight your friends and family…
You can keep it simple like the one in the picture, OR… let your imagination run wild and create your own bespoke work of art.
Experiment using buttercream piped from a pastry bag, add candies or sprinkles… The possibilities are endless.
Just be sure you've got enough lollies for everyone: the kids will be lining up for one in their slice!
10. Construction Cake with Toy Dump Truck
 Image from coolmompicks.com
How cool (and simple) is this one!
Chocolate frosting, Oreo cookies, candy pebbles, and a couple of toys to complete the construction cake: and you're practically guaranteed happy kids!
So there we have it… 10 fantastic ideas to either recreate or use to launch your own creativity from and design something completely unique.
You can probably tell I LOVE discovering and creating new ideas for decorating cakes.
Please share your favorites, your decorated cake photos and any ideas you love in the comments below.
Want to test and keep FREE a tool that will give you perfectly even cake layers? Click here to learn more now